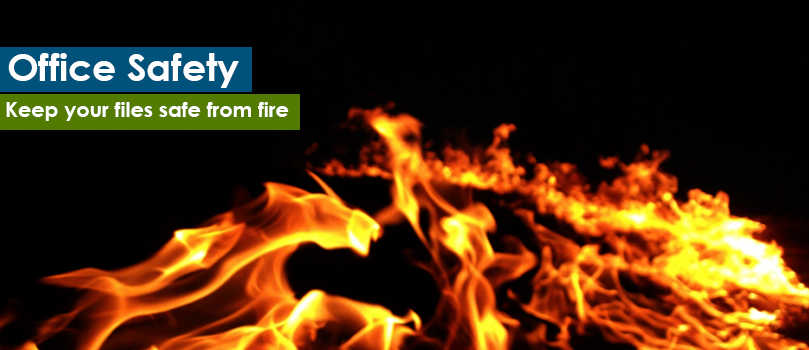 Fires can cost you your business, equipment and even your life. Everyone has the power to take the steps to help prevent fires in the office. Take a look at the
fire safety tips below.
Your office: Keep everything tidy and in its place.
When trash accumulates, the chances of a fire rise accordingly. On a daily basis, discard what you have used up or don't need anymore. Keep hazardous items like chemicals and cleaners in a safe, secure spot. When you need to use flammable liquids, read the directions carefully and then handle with extreme care. Your office equipment should always be maintained in good running order and kept as clean as possible.
Keep fire extinguishers handy.
If you haven't already, purchase fire extinguishers and keep them where they are in plain view and easily accessible. All employees should be well aware of their location and how to use them.
Play it safe. Check each space heater.
Many fires begin with faulty space heaters or units that are improperly used. Take a close look at the heaters in your office to establish that they conform to the latest regulations and are approved for commercial use. Many heaters contain a shut-off switch that automatically turns the heater off if it tips over. Make sure all space heaters are placed in safe locations and not near paper that can catch on fire.
Are you obstructing any fire sprinklers?
A point that's often overlooked is whether or not the fire sprinklers are blocked. In the event of a fire, all furniture or stacks of your company's product or other materials can lower the rate of effectiveness. Keep at least 18 inches of open space from the sprinkler heads.
Create a good policy to address smoking.
Most companies have instituted a "no smoking" policy. Usually smoking is allowed outdoors on breaks and if this sounds like your business, instruct employees to smoke only where allowed.
Examine all power cords.
It doesn't take but a moment to check a power cord. If a computer or appliance or another piece of office equipment has a frayed or loose wire, replace the wire or the machine itself.
Establish an emergency plan.
An emergency plan, which would apply to every employee and area of your business, should be created immediately. Outline all procedures including evacuation, contacting the fire dept and keeping in touch with all workers. Remember to never panic in the face of an emergency. Remain calm and head for the nearest exits.